FULL CIRCLE'S LARGE BLACK PIG PROGRAM
At Full Circle Bison Ranch, in southwest Oregon, we specialize in providing west coast farmers with robust, breed-stock quality, registered Large Black pigs, that have a low co-efficient of inbreeding.
In rare breeds, such as the Large Black Hog, the co-efficient of inbreeding is a crucial factor for farmers who plan to propagate Heritage pigs. The co-efficient of inbreeding percentage (CI) shows how genetically related the Sire and Dam of a pig are (the lower the percentage, the less related). The average CI of the global Large Black herd is at 24%. The pigs we sell have a CI of 11% or less, which is considered good for the Large Black hog.
We traveled to northern Montana to purchase our hardy Large Black sows, which are the Prudence lineage. Our Large Black boar came from Washington and is a Noble Sam. Their piglets are a healthy 11% CI and average 10 live weaned pigs per litter.
Other points to consider when choosing a Large Black weaner pig is the size, health, and social conditioning of the weaner pig or Large Black boar. One of the advantages to buying Large Black pigs from us is that we not only raise Large Black breed-stock, we also raise Certified Organic Large Black pork. Under organic rules, we are required to farrow and raise our Large Black pigs with certified organic (non-medicated) feeds under healthy and humane conditions, that allow the pig to express it's natural instincts, (such as building a farrowing nest). Our adherence to organic pig farming standards is third-party verified by Stellar Organic, who routinely inspect our facilities, our pigs, and animal husbandry methods. All of our Large Black weaner pigs come with proof of their organic status.
Secondly, we have an organic pork market that pays top dollar for any Large Black pigs that are not excellent breed stock quality. This allows us to offer you the pick of the litter for your Large Black breeding program, as the rest of the pigs are kept on the ranch for organic pork.
Finally, because a majority of every litter is destined to be raised and finished here for pork, we don't skimp on the quality or quantity of ration our Large Black pigs are fed. All of our Large Black pigs eat certified organic formulated rations created by a swine nutritionalist. The lactating Large Black sows eat 12-14 lbs of organic lactation ration per day, providing an abundance of rich milk for their piglets. From two weeks of age, our Large Black piglets are offered free choice organic nursery ration 24/7. The results are big, robust, Large Black weaner piglets that can mature to their full potential as Large Black sows and boars.

If you have any other questions or wish to reserve Large Black pigs please call the owner, Tobias Hatfield, at 541-846-1351 or email him at info@fullcirclebisonranch.com.
Note: picks of the litters are in the order we receive deposits, so if you know you want pigs reserve early and have your pick!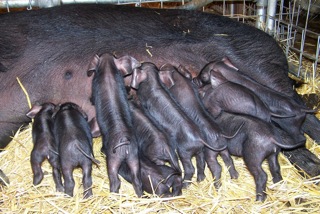 Large Black Weaner Pigs

Registered Organic Large Black Pig Pricing 2011
Large Black weaner pigs, gilts, boars and barrows - $400 each
(comes with registration and proof of organic status)

Mature Large Black boars - call for pricing and availability
(we almost always have some)
---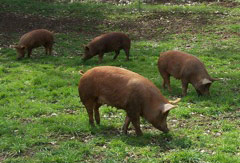 Tamworth Breedstock

Purebred Organic Tamworth Pigs (non-registered) 2011
Tamworth weaner gilts, boars, and barrows - $350 each
(comes with proof of organic status)

Tamworth sows and boars - call for pricing and availability
Learn more about Tamworth

Large Black X Tamworth Cross-bred Pigs (Blackworths)
gilts, boars, and barrows - $375 each

Mature breed boars - call for pricing and availability
---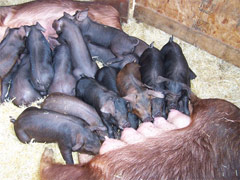 Two Litters

Additional requirements and costs
To purchase a weaner pig you must reserve in advance with a $100 deposit per piglet.
The picks of the litters are in the order we receive deposits.
Pigs are due to be picked up within 5 days of pick-up date which is at 7 weeks old for weaner piglets. Customers that need us to hold their pig past 5 days will need to pay a daily boarding fee for organic feed and straw.
Customers who want to haul pigs across state lines are responsible for travel permits, costs $55 per load, and vet inspection fee (split evenly amongst the out-of-state customers who are buying at the time). We are happy to arrange all necessary paperwork.